Written by Harald Wack, Ph.D.
Monday, 31 October 2011 15:05


The higher surface tension of DI water hampers cleaning performance.
Many manufacturers now find that the cleaning ability of DI water alone is limited. Due to more stringent process conditions, even traditional OA flux residues have become challenging to remove, as water has a high dielectric constant and cannot easily solubilize non-ionic contamination. Therefore, any contamination organic in nature requires the assistance of chemistry to be fully cleaned.

Recent internal studies have resulted in remarkable findings. For one, with a surface tension of 72 dynes/cm, DI water has difficulties penetrating underneath low standoff components such as flip chips and BGAs. Chemistry-assisted processes, on the other hand, typically have surface tension values of less than 30 dynes/cm. Other important factors that facilitate cleaning performance are related to the density and viscosity of the material. Deionized water has a density of 1 g/cm3 and a viscosity of 1 cSt (=centistokes), while cleaning chemistries show densities below 1 g/cm3 and viscosities of less than 1 cSt.

All three of these physical properties improve the mechanical flow behavior of the cleaning agent and thereby provide superior cleanability. While DI water processes often only partially dissolve residues, chemistry-assisted cleaning can completely dissolve and remove contamination (Figure 1). Second, water-soluble fluxes are usually activated by halides, which in their organic state are difficult to remove with DI water. If partially ionized, they form hypo-halide solutions that can be very corrosive and result in electrochemical migration and contamination-induced leakage currents. Third, due to its poor ability to solubilize organic materials, DI water is not capable of cleaning RMA, no-clean, synthetic and highly polymerized "3D" flux residues. A change from eutectic, water-soluble solder material to any of these other products will inevitably result in the formation of white residues on the assembly. Pb-free formulations are even more difficult to clean, as flux residues are intensely baked due to higher reflow temperatures. Furthermore, a higher content of activators is used to avoid oxidation at increased temperatures, and more resins are used to achieve low void rates, resulting in more residues. All of the above will prevent DI water alone from efficiently removing flux residues (Figures 2 and 3).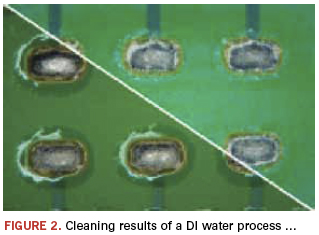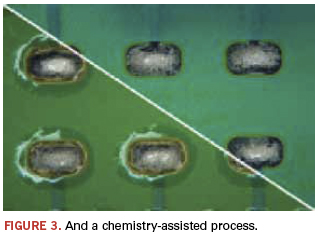 Fourth, most DI water-only applications require higher wash temperatures, relying on heat to react with contamination. Typically, DI water wash processes are operated at 150º-160ºF, whereas chemistry-assisted cleaning application temperatures start at 104ºF. Keep in mind that operating cleaning systems at continuously high temperatures has shown to cause excessive wear and tear on equipment, including pump seals, gaskets, tubing and other materials. And, naturally, higher wash temperatures mean increased operating costs. Defluxing cleaning agents are often mild and aqueous-based. Once the compatibility of a cleaning agent with the equipment materials has been proven, such concerns should be negligent.

Accumulation of organic-based flux residues in the wash tank can cause DI water-only processes to foam, which can lead to process interruptions, due to frequent cleaning bath changes and multiple rinses. Properly installed chemistry-assisted processes, on the other hand, can prevent foaming, as well as frequent bath changes, thereby reducing maintenance and overall process costs. Chemistry-assisted cleaning baths can usually be filtered, whereas DI water baths cannot, since the water solubilizes the contaminants.

Finally, cleaning processes that improperly remove contamination can cause limited or poor surface activation. This, in turn, can negatively affect subsequent production steps such as conformal coating and wire bonding. In particular, conformal coatings may not properly adhere to the assembly if residues are present (see "Process Doctor", February 2011). The coating can crack and temperature fluctuations and moisture can lead to electrochemical migration and leakage currents.
Of course, one might argue that precision cleaning agents are expensive. Yes, they are! However, they may be worth the investment if it means peace of mind and, more important, the retention of valuable customer accounts! And, the money saved through lower operating temperatures, as well as fewer bath changes, can potentially offset the initial investment.

Whether installing a new cleaning process or upgrading an existing one, using DI water or engineered cleaning agents, EMS companies should carefully evaluate all the variables (i.e., cleaning agent, equipment, process settings, etc.).
Harald Wack, Ph.D., is president of Zestron (zestron.com); This e-mail address is being protected from spambots. You need JavaScript enabled to view it .
Last Updated on Tuesday, 01 November 2011 11:19
Columns
There's been a flurry of EMS acquisition activity of late, with Natel's acquisition of EPIC Technologies and Benchmark's pickup of Suntron and CTS among the larger deals.
Read more...
What Does New CEO for Microsoft Mean for Hardware?
In the end, Microsoft couldn't pull the trigger. In Seattle, outside just wasn't "in."
The world's largest software developer today named Satya Nadella, head of the the company's Server and Tools unit, as its new chief executive. The 46-year-old Nadella becomes just the third person to lead Microsoft, one of the most successful and wealthiest companies ever.
Read more...
Features
A Systems-Level Approach to Product Development
Is there a way to more tightly integrate materials and process development so as to accelerate the pace of innovation?
Read more...
Reducing Stencil Wipe Frequency
A new study of nanocoatings allows users to visualize solder paste flow under the stencil.
Read more...
Products
Getech Releases GLRS Laser Singulater
GLRS laser singulation system is configurable with a near IR laser (1032nm) for use with metal-core substrates or a green laser (532 nm) for use with ultra-thin and flexible substrates. Inert gas...