Written by Dr. Davide Di Maio
Monday, 31 October 2011 15:04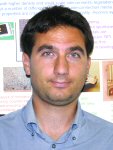 The tapered or hourglass aperture isn't a good look for paste printing.
Stencil technology is one of the keys to successful printing, along with the solder paste and printer. Most engineers know there are different options for stencils: etched brass or stainless steel, laser-cut stainless steel, polyimide or electroformed nickel. In the early days of SMT, poor control of the etching process and incorrect material specification resulted in center-aperture stencil reductions.

Today, many etched stencils remain in use, though not all with hourglass aperture reduction. Figure 1 shows the reduction in aperture size in the middle of the stencil foil, which will have restricted clean paste separation and lead to variability in paste volume. Figure 2 shows no hourglass shape on the side of the stencil wall. As stated, never assume the stencil is what you expect. Always check, as it's the process yield we are trying to improve.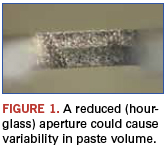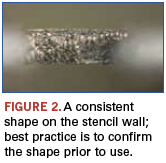 It is normal practice for stencil manufacturers to manually and automatically scan the surface of the stencil design and compare the results with the design files. Making a further check on receipt is good practice and takes very little time during setup. Looking at a new stencil can take the same time as checking an old stencil prior to use for damage, cleanliness and aperture clogging.

These are typical defects shown in the National Physical Laboratory's interactive assembly and soldering defects database. The database (http://defectsdatabase.npl.co.uk), available to all this publication's readers, allows engineers to search and view countless defects and solutions, or to submit defects online. To complement the defect of the month, Circuits Assembly now features the "Defect Video of the Month," presented online by Bob Willis. This describes over 20 different failure modes, many with video examples of the defect occurring in real time.
Dr. Davide Di Maio is with the National Physical Laboratory Industry and Innovation division (npl.co.uk); This e-mail address is being protected from spambots. You need JavaScript enabled to view it . His column appears monthly.
Last Updated on Tuesday, 01 November 2011 11:23
Columns
European RoHS Enforcement Explained
A series of workshops next month on compliance with RoHS and other directives will help US companies looking to break into the European market.

Read more...
Believing Foxconn Means Suspending Belief
The Foxconn makeover is in full swing, with the latest this piece from the New York Times that supposes that the world's largest ODM is worried that Apple -- yes, Apple -- might be bringing it down:
Read more...
Features
Managing Your ESD Program
SMT Reflow Oven-to-Oven Repeatability
How to adjust an oven so a single recipe will work across multiple ovens for an individual product.
Read more...
Products
Speedline Debuts MPM Momentum Compact Printer
MPM Momentum compact printer is 30% smaller overall than standard Momentum. Configurable for dual lane and back-to-back processing. Wet print accuracy reportedly 18µm @ 6ó, Cpk>2. Reportedly...