Written by Dr. Davide Di Maio
Wednesday, 31 August 2011 00:53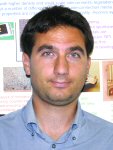 Blocked stencil apertures could be poor laser-cutting practices.
When faced with an incomplete paste print on a newly delivered stencil, go back to basics and check for the real cause. It doesn't often happen that a stencil will arrive in the assembly area with blocked apertures, but it does happen (Figure 1) when waste from cutting is not removed, and can lead to an incomplete paste deposit.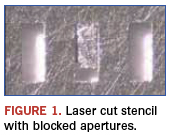 Figure 2 shows the desired results from laser cutting: apertures collected from the bottom of a laser-cutting system. It shows the range of sizes and the laser mark on the surface of the waste where the laser starts its cutting operation and ends the cutting track. It is good practice to check any type of stencil when it arrives with a back light or light box. Normally we would simply put the foil on a white surface or hold the stencil against the window and use sunlight to illuminate the open apertures. Measuring key apertures in the stencil is good practice with any new foil, rather than assuming you have specified correctly; the supplier has defined the correct reductions or both have made adjustments to the original design file.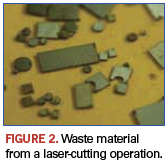 Solder volume does impact joint reliability and assembly yields, along with the printing process (using either metal blades or sealed heads). NPL reports are available on both subjects.

These are typical defects shown in the National Physical Laboratory's interactive assembly and soldering defects database. The database (http://defectsdatabase.npl.co.uk), available to all this publication's readers, allows engineers to search and view countless defects and solutions, or to submit defects online. To complement the defect of the month, CIRCUITS ASSEMBLY now features the "Defect Video of the Month," presented online by Bob Willis. This describes over 20 different failure modes, many with video examples of the defect occurring in real time.
Dr. Davide Di Maio is with the National Physical Laboratory Industry and Innovation division (npl.co.uk); This e-mail address is being protected from spambots. You need JavaScript enabled to view it . His column appears monthly.
Last Updated on Wednesday, 31 August 2011 13:15
Columns
Eastern-US: China's New Competitor?
Parity emerges among EMS Factories from Asia, Mexico and the US.
For the first time in years we see parity in the Eastern US among EMS factories from Asia, Mexico and the US. This EMS market condition will permit American OEMs (the EMS industry refers to OEMs as customers) to have more EMS pathways to choose from. Now more than ever, such EMS assignments will require deeper investigation relating to the OEMs' evaluation of manufacturing strategies.
Read more...
For those who count on the electronics industry for big feats, it's been a remarkable couple of years.
Read more...
Features
Advances in Concentration Monitoring and Closed-Loop Control
Contaminated bath water skews refractive index results. New technology can accurately measure aqueous cleaning agent concentration.
Read more...
Circuits Disassembly: Materials Characterization and Failure Analysis
A systematic approach to nonconventional methods of encapsulant removal.
Read more...