Written by Dr. Davide Di Maio
Thursday, 30 June 2011 15:03

Reworked components leave traces of their past lives, if you know where to look.


An issue for years, counterfeit components are increasing in frequency and sophistication. The following show examples of lead changes that can help in part inspection.

The PLCC "J" lead terminations were supplied with a hot dipped solder finish, common on component terminations pre 1990s, but less common today. Normally they would be Sn-plated and hot dipped only if the original finish was removed or the parts refurbished.

New components that have been plated and leads formed for assembly will usually have lines visible on the bends. This gullwing lead (Figure 1) shows variation in the plated surfaces. Re-plated or dipped component terminations will not have this feature and look more like the surface of the J lead part.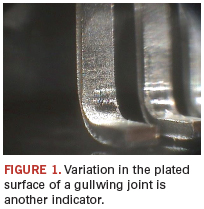 Components soldered and recovered from boards may show evidence of the original plating surface at the top of the lead and a reflowed solder coating on the bottom of the leads. Often, the toe of the leads will have a solder coating, which is not normal with all new leads after plating and lead formation (Figure 2).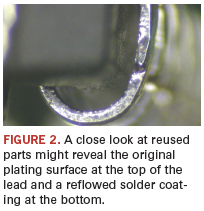 These are typical defects shown in the National Physical Laboratory's interactive assembly and soldering defects database. The database (http://defectsdatabase.npl.co.uk), available to all this publication's readers, allows engineers to search and view countless defects and solutions, or to submit defects online. To complement the defect of the month, CIRCUITS ASSEMBLY now features the "Defect Video of the Month" online. This describes over 20 different failure modes, many with video examples of the defect occurring in real time.
Dr. Davide Di Maio is with the National Physical Laboratory Industry and Innovation division (npl.co.uk); This e-mail address is being protected from spambots. You need JavaScript enabled to view it . His column appears monthly.
Last Updated on Thursday, 30 June 2011 17:32
Columns
The Flash Programming Flow
On-board flash memory device testing and programming.
Read more...
Does Reliability Have a Place In EMS?
Experts say physics of failure is overtaking MTBF as the go-to model.
Read more...
Features
MassChallenge, a not-for-profit accelerator program, aims to "create a bigger pie" by helping innovators get to market.
Read more...
Who says a Tier IV EMS can't have the foresight, and follow-through, of the big players?
Read more...