Written by Paul Lotosky
Thursday, 31 March 2011 13:51

Control the humidity to enhance paste integrity.
Possible causes: Solder paste.

Description. Solder paste, especially water-soluble versions, which are hygroscopic, tend to have limited stencil life because of moisture absorption.

Recommendations.
Minimize exposure time.
Printer temperature and humidity should be within recommendation.
Try new lot of solder paste to verify paste integrity.
Use coarser powder size if possible, as fine powder size has more oxides and tends to slump more readily.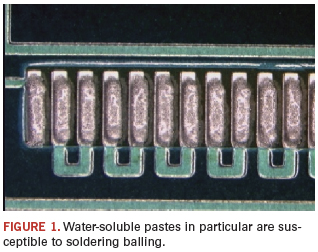 Paul Lotosky is global director – customer technical support at Cookson Electronics (www.cooksonelectronics.com); This e-mail address is being protected from spambots. You need JavaScript enabled to view it . His column appears monthly.
Last Updated on Thursday, 31 March 2011 16:56
Columns
European RoHS Enforcement Explained
A series of workshops next month on compliance with RoHS and other directives will help US companies looking to break into the European market.

Read more...
Believing Foxconn Means Suspending Belief
The Foxconn makeover is in full swing, with the latest this piece from the New York Times that supposes that the world's largest ODM is worried that Apple -- yes, Apple -- might be bringing it down:
Read more...
Features
Managing Your ESD Program
SMT Reflow Oven-to-Oven Repeatability
How to adjust an oven so a single recipe will work across multiple ovens for an individual product.
Read more...
Products
Kolb Releases PS300 2HY Stencil Cleaner
PS300 2HY hybrid batch stencil cleaner is suitable for stencils, PCBs, misprints and solder frames. Is an automatic single-chamber system; features 3-4 step PowerSpray cleaning. Is part of compact...