Written by Wee-Sheng Yong
Wednesday, 30 March 2011 18:28
Directly and indirectly, ICT reduces scrap and process time.
The intention of any printed circuit board manufacturing line is to offer competitive products that can meet customers' expectations. However, poor quality materials, board design problems and PCB process-related failures may impair product quality. Effective testing is crucial to ensure a product's competitive advantage.

The in-circuit tester is a good quality assurance tool for testing and detecting component failures and process defects. It uses electrical probes to test all the components of fully populated PCBs. It isolates and examines one component at a time, even when the devices are interconnected with traces. Component testing may be performed with a bed-of-nails test fixture and special test equipment.

Unfortunately, with the advances and innovations in in-circuit testers over the years, some fundamental aspects have been forgotten. Perhaps it is time for a quick refresher.

In-circuit testers are workhorses of the electronics industry. They have done a great job of testing both analog and digital components fast and economically to detect common manufacturing process and components defects (Table 1). In most cases, they are much easier to program thanks to the built-in automatic test program generators. This is extremely helpful, as PCB feature sizes have shrunk while component complexity has increased. Engineers need not be concerned about the complexity of the board circuitry or component functionality when preparing the test program, as built-in circuit analyzer software helps to perform much of the work. This saves the time on program generation, while maintaining test coverage and effectiveness.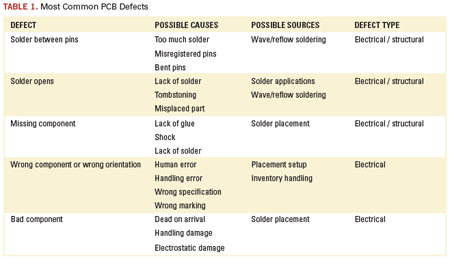 In-circuit testers have built-in power supplies for powering the boards, and many of them can be upgraded to do inline programming and sophisticated functionality testing. They also offer better test transportability and repeatability, making it effortless for end-users to transport test programs across systems. This flexibility helps improve time to market and reduce testing costs to a great extent.

In-circuit testers can identify most problems, whether they are open, shorts or bad components, making it much easier to diagnose the root cause of the defect. Furthermore, you can gather and analyze the measurement data to provide feedback for improving the manufacturing processes so that similar problems do not occur again in the future. This is the biggest payback of the in-circuit tester: It reduces rework and scrap costs by preventing or detecting problems as early as possible.

Let's look at an example. Suppose there is a recurring component failure issue. The failure ticket shows that it is failing on the higher end of the component tolerance of all the failed boards. After investigating, it is found that a wrong component was placed on the boards due to human error. The problem can be corrected immediately, and the rework cost for the failed boards is minimal.

In a case like this, it is important for the test technicians to really understand the manufacturing processes and the available test technologies so that they stay focused on the defects that are most important. The earlier in the production cycle you test, the more time and money will be saved, yields increased, manufacturing process problems reduced, and products delivered faster. This all adds up to faster and greater profitability. As stated, you can minimize the scrap and material costs. Another advantage is the cost-saving benefits of fewer failures occurring at the functional test systems, thus saving on capital equipment costs and allowing highly skilled technicians to take on more complex work.

Because test programs can be developed quickly, testing can start as soon as boards are available. This speeds time to market. Manufacturing process improvements are quicker to increase the output yield. By producing more volume and high-quality products with fewer resources, in-circuit testing is a very economical way to increase the bottom line.

ICT helps monitor the quality of the manufacturing process itself. It helps eliminate defects that can occur in boards and provides constant feedback so crucial to making continuous improvements that keep the production line moving.

With in-circuit testing, the integrity of the PCBs that go in the finished products can be verified before they leave the production floor. The cost of detecting defects later can be devastating not only in monetary terms, but in the impact on reputation and image.



Wee-Sheng Yong is a technical marketing engineer at Agilent Technologies (www.agilent.com); This e-mail address is being protected from spambots. You need JavaScript enabled to view it .
Last Updated on Thursday, 31 March 2011 17:15
Columns
Eastern-US: China's New Competitor?
Parity emerges among EMS Factories from Asia, Mexico and the US.
For the first time in years we see parity in the Eastern US among EMS factories from Asia, Mexico and the US. This EMS market condition will permit American OEMs (the EMS industry refers to OEMs as customers) to have more EMS pathways to choose from. Now more than ever, such EMS assignments will require deeper investigation relating to the OEMs' evaluation of manufacturing strategies.
Read more...
For those who count on the electronics industry for big feats, it's been a remarkable couple of years.
Read more...
Features
Advances in Concentration Monitoring and Closed-Loop Control
Contaminated bath water skews refractive index results. New technology can accurately measure aqueous cleaning agent concentration.
Read more...
Circuits Disassembly: Materials Characterization and Failure Analysis
A systematic approach to nonconventional methods of encapsulant removal.
Read more...