Written by Paul Lotosky
Saturday, 05 March 2011 00:05

Excessive reflow ramp is just one of several spurs for these potential short causers.
After reflow, small spherical particles with various diameters can be formed away from the main solder pool. These are known as solder balls.

Possible Cause: Stencil.

Description. Paste stuck under the stencil will be transferred onto the solder mask of the next PCB.

Recommendations.
Verify zero print gap setup.
Check minimum print pressure used.
Check cleaning efficiency such as wet/dry/vacuum.
Check wipe frequency.
Possible Cause: Reflow profile.

Description. Fast ramp-up rate or preheat rate will not permit sufficient time for solvent to vaporize gradually.
Recommendations. Slow preheat rate is recommended, typically <1.5°C/sec. from room temperature to 150°C.

Possible Cause: PCB moisture.

Description. Trapped moisture may result in explosive vaporization.
Recommendations. Lower grade PCB laminates such as FR-2 and CEM-1 tend to absorb moisture. Bake at 120°C for 4 hr. if necessary.
Paul Lotosky is global director – customer technical support at Cookson Electronics (cooksonelectronics.com); This e-mail address is being protected from spambots. You need JavaScript enabled to view it . His column appears monthly.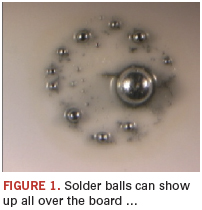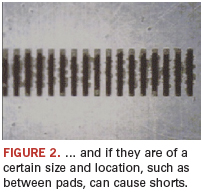 Last Updated on Monday, 07 March 2011 15:14
Columns
There's been a flurry of EMS acquisition activity of late, with Natel's acquisition of EPIC Technologies and Benchmark's pickup of Suntron and CTS among the larger deals.
Read more...
What Does New CEO for Microsoft Mean for Hardware?
In the end, Microsoft couldn't pull the trigger. In Seattle, outside just wasn't "in."
The world's largest software developer today named Satya Nadella, head of the the company's Server and Tools unit, as its new chief executive. The 46-year-old Nadella becomes just the third person to lead Microsoft, one of the most successful and wealthiest companies ever.
Read more...
Features
A Systems-Level Approach to Product Development
Is there a way to more tightly integrate materials and process development so as to accelerate the pace of innovation?
Read more...
Reducing Stencil Wipe Frequency
A new study of nanocoatings allows users to visualize solder paste flow under the stencil.
Read more...
Products
Getech Releases GLRS Laser Singulater
GLRS laser singulation system is configurable with a near IR laser (1032nm) for use with metal-core substrates or a green laser (532 nm) for use with ultra-thin and flexible substrates. Inert gas...