Written by Dr. Davide Di Maio
Saturday, 05 March 2011 00:04

Total separation is cause for investigation.
The conformal coating has separated from the surface of the plastic QFN/LGA body, which is not uncommon on many plastic parts. Devices often have molding release agents on the surface that make coating adhesion difficult to maintain, and minor loss or separation may not normally be reworked. In this case, the root cause should be established, as all the coating on the device has completely lifted.

Cleaning the board assembly after soldering may overcome the problem in future production runs, or it might not, unless a proper assessment is conducted on the cleaning process compatibility. The next batch of parts might not have the problem, and, convinced, you will be cleaning for life. The fault can be seen on most conformal coatings, more likely on thinner coating, although the poor adhesion will still be apparent on thicker coating that may not be so easily displaced.

These are typical defects shown in the National Physical Laboratory's interactive assembly and soldering defects database. The database (http://defectsdatabase.npl.co.uk), available to all this publication's readers, allows engineers to search and view countless defects and solutions, or to submit defects online.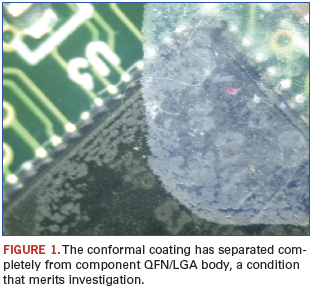 Dr. Davide Di Maio is with the National Physical Laboratory Industry and Innovation division (npl.co.uk); This e-mail address is being protected from spambots. You need JavaScript enabled to view it . His column appears monthly.
Last Updated on Monday, 07 March 2011 15:16
Columns
The Flash Programming Flow
On-board flash memory device testing and programming.
Read more...
Does Reliability Have a Place In EMS?
Experts say physics of failure is overtaking MTBF as the go-to model.
Read more...
Features
MassChallenge, a not-for-profit accelerator program, aims to "create a bigger pie" by helping innovators get to market.
Read more...
Who says a Tier IV EMS can't have the foresight, and follow-through, of the big players?
Read more...
Products
Dial Releases Buran B100 Screen Printer
Buran B100 screen printer has a print format of 75 x 75mm to 508 x 508mm. Repeatability said to be -/±15μm @ 6 Sigma. Cycle time is 12 sec. (without print). Handles PCB of thicknesses ranging from...