Written by Dr. Davide Di Maio
Saturday, 05 March 2011 00:04

Total separation is cause for investigation.
The conformal coating has separated from the surface of the plastic QFN/LGA body, which is not uncommon on many plastic parts. Devices often have molding release agents on the surface that make coating adhesion difficult to maintain, and minor loss or separation may not normally be reworked. In this case, the root cause should be established, as all the coating on the device has completely lifted.

Cleaning the board assembly after soldering may overcome the problem in future production runs, or it might not, unless a proper assessment is conducted on the cleaning process compatibility. The next batch of parts might not have the problem, and, convinced, you will be cleaning for life. The fault can be seen on most conformal coatings, more likely on thinner coating, although the poor adhesion will still be apparent on thicker coating that may not be so easily displaced.

These are typical defects shown in the National Physical Laboratory's interactive assembly and soldering defects database. The database (http://defectsdatabase.npl.co.uk), available to all this publication's readers, allows engineers to search and view countless defects and solutions, or to submit defects online.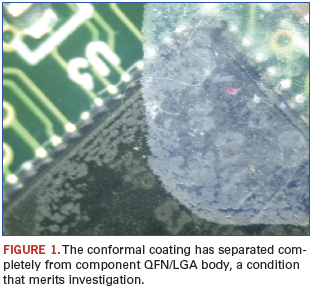 Dr. Davide Di Maio is with the National Physical Laboratory Industry and Innovation division (npl.co.uk); This e-mail address is being protected from spambots. You need JavaScript enabled to view it . His column appears monthly.
Last Updated on Monday, 07 March 2011 15:16
Columns
European RoHS Enforcement Explained
A series of workshops next month on compliance with RoHS and other directives will help US companies looking to break into the European market.

Read more...
Believing Foxconn Means Suspending Belief
The Foxconn makeover is in full swing, with the latest this piece from the New York Times that supposes that the world's largest ODM is worried that Apple -- yes, Apple -- might be bringing it down:
Read more...
Features
Managing Your ESD Program
SMT Reflow Oven-to-Oven Repeatability
How to adjust an oven so a single recipe will work across multiple ovens for an individual product.
Read more...
Products
Polyonics Introduces Double Coated Bonding Tapes
Ultra thin double coated tapes are for bonding and attaching components and assemblies where high dielectric strength is required. REACH and RoHS compatible. Come in polyimide (PI) and polyester...