Written by Paul Lotosky
Wednesday, 02 February 2011 15:25

What to do when fillets aren't forming completely.
Insufficient solder occurs when the amount of solder paste deposited on the PWB by the printer is much less than stencil opening design, or after reflow, there is insufficient solder to form a fillet at the component leads. Potential causes include the stencil, printer, reflow profile, and paste itself.

Stencil

Description: Solder paste adheres on the stencil aperture walls.
Recommendations:
Ensure area ratio > 0.66.
Ensure aspect ratio > 1.5.
Ensure no burrs on stencil aperture edge.
Screen Printer

Description: Print definitions.
Recommendations:
Verify print setup.
Reduce print speed to provide sufficient time for paste to roll into aperture.
Reflow Profile

Description: Mismatch in CTE between component and PCB can cause solder wicking effect that may look like insufficient solder on pads.
Recommendations:
Attach thermocouple on component and PCB.
Apply soak profile to minimize ∆T before reflow zone.
Set bottom zones to be higher temperature if possible, to keep PCB hotter than component leads.
Solder Paste

Description: Solder paste viscosity.
Recommendations:
Check paste conditions such as dry paste phenomenon by verifying if paste rolls or skids along print direction.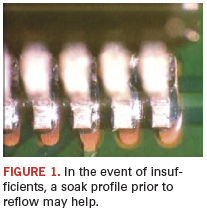 Paul Lotosky is global director – customer technical support at Cookson Electronics (cooksonelectronics.com); This e-mail address is being protected from spambots. You need JavaScript enabled to view it . His column appears monthly.
Last Updated on Wednesday, 02 February 2011 17:15
Columns
Could 3-D printers undo decades of frame-up circuit board assembly?
Read more...
J-STD-004B: A New Twist on an Old Standard?
Before rejecting a flux, be sure you understand the standard.
Read more...
Features
A Systems-Level Approach to Product Development
Is there a way to more tightly integrate materials and process development so as to accelerate the pace of innovation?
Read more...
Reducing Stencil Wipe Frequency
A new study of nanocoatings allows users to visualize solder paste flow under the stencil.
Read more...
Products
Metcal Updates Scorpion Rework System
Scorpion rework system now includes an automatic placement package capable of 50mm of motorized travel in the Z-axis and 360° in ϴ. Automatic placement package offers fine motor control in the...