Written by Dr. Davide Di Maio
Wednesday, 02 February 2011 15:18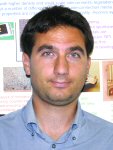 The pad/lead junction must be correctly coated to avoid corrosion.
This month we feature a recent issue submitted to the database. Coating inspection under UV light shows the impact of capillary action, although there is evidence the coating coverage on the board and component surface have capillaried under the PLCC, as indicated by the tide line around the component (Figure 1).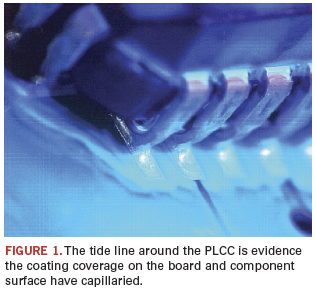 Based on inspection criteria, this meets common standards, but the thickness of the material will vary on the surface of the board. This is more likely to be seen on low-standoff devices.

Changing the material viscosity, reducing the spray travel speed, or increasing the amount of material or solids applied during spray application should improve the results. Experience tells us that the pad/lead interface is the area where corrosion is most likely to occur, so correct coating is most important around the joint interfaces than on open areas of the board surface, which are protected by solder mask.

These are typical defects shown in the National Physical Laboratory's interactive assembly and soldering defects database. The database (http://defectsdatabase.npl.co.uk), available to all this publication's readers, allows engineers to search and view countless defects and solutions, or to submit defects online.
Dr. Davide Di Maio is with the National Physical Laboratory Industry and Innovation division (npl.co.uk); This e-mail address is being protected from spambots. You need JavaScript enabled to view it . His column appears monthly.
Last Updated on Wednesday, 02 February 2011 17:18
Columns
The Flash Programming Flow
On-board flash memory device testing and programming.
Read more...
Does Reliability Have a Place In EMS?
Experts say physics of failure is overtaking MTBF as the go-to model.
Read more...
Features
MassChallenge, a not-for-profit accelerator program, aims to "create a bigger pie" by helping innovators get to market.
Read more...
Who says a Tier IV EMS can't have the foresight, and follow-through, of the big players?
Read more...
Products
VJ Electronix Introduces X-Quik Benchtop X-Ray
X-Quik x-ray inspects items such as electromechanical devices, sensors, molded parts, mail parcels and biological samples. Footprint is just more than 2 ft.3. Is suited for engineering labs, machine...