Written by Mike Buetow
Friday, 07 January 2011 16:32
A first-of-its-kind panel of pick-and-place OEMs offers their take on flip chips, on-board inspection and the future. 
Are today's component placement machine platforms sufficient for tomorrow's technology?

That was the question several leading placement OEMs addressed during a first-of-its-kind roundtable in late October.

Under the auspices of SMTA and moderated by CIRCUITS ASSEMBLY, the 90-minute roundtable brought together high-level representatives from Assembléon, Essemtec and Universal Instruments, with Juki joining later to complete the picture. It was a sales-free zone: No audience was present. Instead, the competitors were asked to set aside the gloves for a few hours and talk technology and markets.

Joining us were Greg Berry, global director, medium volume solutions at Assembléon; Kevin Clue, regional sales manager at Universal Instruments; Steve Pollock, Essemtec vice president of sales; and later, Bob Black, president and CEO of Juki Corp. What we heard was unprecedented candor and consideration about the challenges for electronics manufacturers today and tomorrow. Excerpts of the conversation are below; for the complete transcript, visit circuitsassembly.com.

CA: Given the capability of your machines today, what conditions must be met to be able to place next-generation packages in volume?
SP: Most of our customers are not in the 24/7 production market, but we deal with a lot of government institutes, a lot of people doing high-tech things, so we need to be able to do 01005s, 0.3 mm chips, QFNs, just in lower volumes. With our new platforms, we are moving into upper medium-volume pick-and-place, up to 24,000 placements per hour. These platforms are a completely new design. Linear motor drives, x-y accuracies of 0.02 µm.

GB: We have been doing 01005 in volume for four or five years. What we see on the forecast is not an issue. I used to be a manufacturing engineer, and you look at the bottom termination components and QFNs – for us, it's very simple to process those. The issue is paste deposition, the process behind it. The pick-and-place is pretty simple. The BTCs are not much of a challenge. We're building machines to handle flip chips. If you buy from one of the top guys, you'll have a machine that unfortunately will probably last you for the next 10 years. [Laughter.] It's horrific. [Laughter.]

KC: The 005005 [Ed.: metric 0201] package coming down the pike is a challenge from a manufacturing and pick-and-place perspective. Our lab in Binghamton, NY, is focused on those new package designs, but that's the only component we're kind of getting our arms around. The 01005 nozzle technology was something we spent a lot of time developing to get the yields. Placing an 01005 is a lot different than placing an 0201. A package two-thirds the size of an 01005 will be interesting.

CA: Is the trick in the vision, the nozzle, the software?
BB: Measurement is not the issue. Machines can see almost 40 pixels across the short side of an 01005. For 005005 packages, even without doing anything, we will have 20 pixels on the short side. More critical is the nozzle construction. The nozzle cannot extrude over the side of the part at all. You could dislodge adjacent parts. We've gone to "no-blow" technology. With larger parts, you used to reverse the vacuum technology. But with 0402s and smaller, doing that would blow the previous part off.

GB: From Assembléon's perspective, it's more the vision of the components. Every time you think you get your arms around what chipmakers are doing, they come out with a completely different package, a completely different array, and it makes you rethink the algorithms.

The positioning systems, the camera technology, everything you have today – if you look at where we were 10 years ago, there are still a lot of people using 10- or 15-year-old placement systems. I think the technology we have in systems today is good for the foreseeable future, including 005005. It's more vision, algorithm-driven and some nozzles; 01005 and 005005 nozzle technology will be an issue because oil on your fingertips could clog the nozzles.

CA: There's been discussion for two or three years about post-placement inspection supplementing or perhaps even supplanting post-placement AOI. To what degree have you looked at that, and what are the pros and cons?
BB: Camera-based inspection is neutral to the footprint of the machine. It doesn't slow the line; bad boards are sidelined, which will take far less time than it would take if they deal with it after soldering. It's a question of price vs. performance. The real key to this is not just the inspection part of it. It's when you have a problem in assembly, when do you catch it? After you have built 300 boards, or at the first or second one? After you find the mistake, how do you figure out how it originated? Which machine? Which process? The WIP cross-failure analysis allows an engineer to quickly pinpoint when and why a problem occurred. We view this as a factory control issue. Fewer engineers are running more lines. With this system, you'd be able to control every line.

SP: Our machines look at components using a fiducial camera. It's not like what an AOI would do. If you put this technology on a faster machine, it's defeating the purpose. I think they should be kept separate. For volume, it doesn't make sense.

KC: We somewhat agree. We see some value there, but AOI in a placement machine is a little too late. If you're building in a lot size of one, as a lot of our US customers do, it's a little late to look at the part after it's been built. Universal's approach is to use process diagnostics in the machine, using dynamic and adaptive technology for X, Y and Z at placement and pickup. We're looking at parts before putting them down. We monitor nozzles as they are used, making sure they are correct and not defective.

CA: As a follow-up, would that by extension mean post-placement AOI is not necessary?
KC: I think there is a market for that, but it's not Universal's sweet spot. I think there's a market in Asia where they are building the same thing all day, every day.
GB: I agree. I don't think you can ever get away from post-placement inspection because, if you are building a million iPhones, you can't afford building bad product because the tray was loaded backward. At the other end of the spectrum, on reliability-critical – military, medical, implantable devices – you have to do 100% inspection. You'll always have to do inspection at some level. It's going to become more mainstream. Right now it's 80% don't, 20% do. I think you're going to see a switch soon.

CA: Insofar as a hybrid machine doing placement and post-assembly inspection?
GB: We've looked at this quite a bit. But if you're trying to push out 100,000 cellphones an hour, that's wasted placement capacity. Why take up that real estate inside the machine to do an AOI function? You're going to murder the output of the line. Where it makes sense is the low end, because volumes aren't as high; capabilities aren't nearly as great.

KC: I would even question that because what does an AOI cost now: $40,000 or $50,000?

SP: Minimum, for a batch.

GB: But if you need x-ray…

KC: X-ray's a different story. Some of these guys putting AOI inside the placement machine, that's not x-ray. They are looking at presence/absence, X,Y and theta.
GB: That's true.

KC: You can buy a $40,000 automatic machine with software developed over many, many years; let's all stay with our key competencies here.

GB: I couldn't agree more. [Laughter.]

CA: In looking at operations with dedicated placement machines vs. ones with high changeovers, is there a rule of thumb for the type of line you should buy?
BB: We have kept the same philosophy worldwide: Make all machines flexible. China tends to use fixed banks, with nothing on the back of the machine. In the US, most customers are totally flexible. We try to make all machines the same changeover time, regardless of speed.

GB: Internally, because we have such a broad spectrum, we've had to give people a rule of thumb. The volume machines are a lot more advanced than a few years ago. Volume machines can be changed over 10, 12, 20 times a day and still maintain good output. If batch sizes are below 100, it starts making sense to look at even more flexible, lower-speed machines, and then rack-and-stack multiple lines. If you can turn on the machine and let it run for an hour, it makes sense to buy dedicated high-volume lines capable of quick changeover. A lot of customers can do 10 NPIs, and it takes 10 to 15 minutes on a brand new, never-seen-before product, from CAD to running product. It doesn't matter whether it's a volume line or a flex line. That threshold is getting pretty low as to what makes sense. The biggest key I see is commonality, common lines. Maybe the batch size is enough to warrant a certain level of output, but then you just mimic that line every time.

KC: I don't think you can quantify when it makes sense to go from high change to a dedicated setup. Every customer is different. Go to any contractor on the globe and ask the plant manager what their biggest issue is: It's parts availability. They're not able to ship their product on Day 1 of the month because they don't have the parts to build the product. They have the equipment, the resources; they just don't have the parts. So everyone is going to quicker change because they have to build in smaller lot sizes, and quicker change requirements have increased need for software.

CA: Perhaps the fastest-growing segment of the industry is flip chip. How are you responding to that?
BB: Of the placement machines today, probably the more accurate ones would be in the 15 to 20 µm range for true center position placement accuracy. For true flip chip, you need 10 µm or below. More placement platforms will be coming with that level of accuracy. For flip chip, you get into thermal stability. Just a few degrees over the day could mean microns difference in accuracy. Machines can be made out of granite and ceramic to get a little more out of the thermal expansion. You'll see these in the next few years.

SP: Right now in the US, we haven't seen a lot of this. In Europe, certain people are talking about it. It's about how it's presented, how we are picking it up; do we have to pick it from a wafer? Do we have to put it into a flux station? Is it pre-fluxed? There are a lot of different thoughts about that. We are addressing it, but it's more on a case-by-case basis.

CA: So it's custom machines?
SP: It's an add-on.

GB: We see flip chip in two segments: high volume and everything else. The high volume, we're creating additions to the AX with twin-place robots that have 20 µm accuracy, linear fluxers, and what we see on that end is that tape-and-reel is standard. That's how everyone is presenting these things: no real need for wafer feeders or anything like that. That's one way we are attacking it, with the high-volume A series and dip fluxers and whatever they need for process, but not really worrying about the wafer handling.

On the flip side, Yamaha is releasing a new machine to go after people needing wafer handling, lower volume – maybe 3,000 to 4,000 cph – and looking at pulling out a 12-in. wafer, dip flux and flip them and do everything. Volume-wise, there doesn't seem to be a middle ground. You're either prototyping or doing a lot of volume.

CA: Can you handle both those sectors on a single platform?
GB: For us, the machine we're using for prototyping could delve into high volume, but it depends on where the customer's requirements fall. If you have 100,000 cph for chips and need three or four or five flip chips placed, it could keep up. The cellphones are driving more and more to flip chips; they are putting more on there to get better space utilization on the phones, so you're starting to need 20, 30. Those guys don't need wafer handling; just pick it, dip, place. The high-volume machines won't handle the wafers at all. Indications from everyone are that for volume, all the sorting will take place offline.

KC: We all have our niche. Universal's position is one of accuracy, so our standard platform can manage 10 µm in accuracy, which is, I think, an industry-leading spec. Five years ago, you had to buy a flip chip bonder for $500,000 and pick-and-place machines for $300,000 or $400,000, and you have an $800,000 solution because you are building system-in–package, and you need flip chip and discrete. People don't want to spend on two systems, two sets of software, two sets of operating expenses, two direct labor expenses and so on. We're seeing a merger of surface mount and microelectronics, and the requirement is for platforms to be able to accommodate everything. You need the speed of surface mount and the accuracy of the micro side. You have to have the accuracy and the speed, with direct die feed capabilities.

I do agree that the smaller guys – who don't need the speed but want accuracy, small feature recognition capability, all sorts of tooling, dipping stations – they need all the bells and whistles.

We can migrate into volume so the guy picking from waffle pack could morph into picking from tape-and-reel and wafer all on the same platform. That's our wheelhouse – to have a modular platform that can go from building one all the way to high-volume flip chip assembly.

CA: Certainly assemblers like to dial down the WIP. So with parts availability an issue, have you seen EMS companies building partial boards and waiting for the final parts, or do they wait to start until they have the whole kit? This would have a direct impact on changeover, of course.

KC: Yes, that has a direct impact on changeover.

GB: When you said software is so critical to that, it really is: being able to manage what you do. As you are bringing the kit to the floor, you notice, "Oh, we're missing three of the components." If the philosophy is we don't build unless we have a full kit, the entire production schedule turns on its head. To have the software to be able to adapt to that, to do common setups and to be able to quickly change over, that's crucial. I see both. Some people will say, "I've already got it set up. I'll build it out." Others, whom I think have a little better handle on the business aspect, will make the quick change. In my opinion, it is an issue, but there are no standards as to how to tackle that issue.

BB: Most are waiting for the complete kit; those who aren't are adding the last few parts by hand at the end. If they build without all the parts, they always could choose whatever parts are left to place and block the rest. But for most complex parts, the EMS companies are using hand soldering or an automated tool. We see very few people running them back through the machine.

CA: With LEDs, one of the options is getting the light output correct, parts with the right intensities and the bin codes all matched up. What do you do in that regard to tackle that?
SP: We have quite a few customers doing LEDs, mainly because some of our platforms have very large board sizes. We created a lot of special nozzles for these, how to pick up over the domes without separating them from the substrate. To date we've made 700 to 800 custom nozzles.

CA: Does it require a software upgrade?
SP: Not at all. It's amazing how huge this market is. If you start a company making LEDs, you can make money, because there is room for everyone, and everything is going to LED: from the small guys with a niche to the guys trying to replace all the traffic lights in every municipality. And custom LED lighting. It's a really cool industry. It's going to benefit everyone. And how cool do those LED lights look – come on! [Laughter.]

BB: The important thing is a good vacuum feed on the part. If you have a dome, and have to hold the part straight, you have to get down under the collar to hold the dome. Nozzle design is very important for LEDs. The other thing that helps with LEDs is machines with rotary heads have to be more careful; when spinning at high speeds, the centrifugal force needs a good vacuum grip, or you would lose the part. LEDs are bin-sorted for intensity. If you lose too many, you will have blotchy intensity with the lights. That said, the rotary head can be used; sometimes you slow it down a little or optimize the nozzle design.

GB: Philips invented the Lumaled lighting and was on the front end of that for 10 years or so, but the process was hell; it just wasn't really a process. For automotive, we saw the LEDs really come on strong. We developed a lot of customized software that has now become productized; it has turned into our setup verification software. The key things are monitoring the bins; monitoring how many boards you have left to produce on the reels left on the machines; if it gets below a threshold, shutting machines down and not letting it put more boards in until new reels are scanned. Whenever you make something idiot-proof, you find a better idiot. [Laughter.] We're adding things like moisture-sensitive, timing, making sure if it goes into a bake cycle that you back that all out; if it goes into dry box, stopping it. Also, some of our customers dynamically change the placement program, so [some] don't care if it's seven different LEDs, as long as the intensity is the same. Therefore, you have to change all your resistor values on the board to dynamically keep up with what's being placed. On the other end, if you are building for the BMW 7 Series, one reel of parts has to have everything for that entire car. It's a completely different set of requirements for the binning and LED trapping.

CA: It sounds significantly more complex than traditional SMT.
GB: It goes so far beyond normal setup verification, it's not funny.

BB: Absolutely. You have to have software flexibility to optimize the feeder position. It's a software modification to the current platform.

CA: As a standard rule, would you need additional feeders ready to accommodate all that dynamic changing of parts?
GB: At that point, it depends on volume. For a little guy, for the feeders, no. It takes nothing to change the Yamaha electric feeders over. For a volume environment, there are typically only two or three reels anyway, because they want to keep the WIP fairly small, and minimize the opportunities for partial reels left.

KC: The automotive market tends to push you in those areas mentioned. The other market for LED is commercial lighting, which drives other parts of your business. In Asia, they want to replace these 4-ft. long ballast assemblies in every contract manufacturing facility. They drive you not only on the pick-and-place technology for a little LED, but on a board technology perspective as well, so the Asian marketplace is driving toward 1.2-meter long boards. They aren't very thick …

GB: They are the same as a fluorescent tube …

KC: The weight isn't an issue. It's the physical placement area that becomes the challenge. Universal would handle that board differently. Board size – length – is becoming important. Our standard platform is over one meter, and we're driving toward 1.2 meters. The challenge from our side is to be able to accommodate SiP: tiny little thin boards that are basically flex circuits; being able to pick-and-place die onto these flimsy little substrates; and then being able, with the same machine, to accommodate this 1.2-meter long board. That is a challenge.

CA: Plated through-hole components: Will they die out in our lifetime?
GB: I don't see it. You can't handle the power with an SMT component. It's physics. There's no way around it. They may die due to neglect. Even with us driving to lower power consumption, you still have to be able to charge it, to handle 120V AC and knock it down to something you can use. To do that, you have to have through-hole components. SMT can't get there.

KC: I agree. We still see a lot of through-hole components in automotive and in consumer electronics. Those who aren't focused on board size, who aren't constrained by density, they have current requirements, power requirements; they can't do it with surface mount. We still build a lot of through-hole machines today. [Research firm] Prismark has through-hole going through 2020.

BB: They will outlive me [laughs]. That's one reason selective soldering has become so popular. You still have those few PTH parts and connectors on many boards.
GB: In my opinion, the only way through-hole dies is if the government forces us onto DC instead of AC. That's the only way you get away from them.

CA: It sounds like there isn't much out there right now that existing platforms can't handle, but 005005s and extreme LEDs are pushing the boundaries right now?
GB: Process-wise, once you get it figured out, it's not too bad.

KC: The biggest challenge we have in surface mount is what we are being pushed to by our customer base. Our customer base is trying to take money out of the assembly. They are taking skilled workforce out of the equation and putting unskilled workforce into the equation. There are variables from a parts perspective, parts number issues, traceability issues. The challenge we have is, how do we still make good product when you might not have quality engineering staff, quality technician staff, quality raw materials? When you perhaps don't have the same level you had 10 years ago, that's a change that must be accommodated in the machine. The bigger issue is figuring out how to deal with the change in the infrastructure of our customers.

BB: In China in particular, we have gone to almost a totally graphic interface where you touch a picture on a touchscreen. There's very little verbiage left. The level of education and amount of training people get in factories is really minimal. It's a continuing problem. The other problem is many run it until it breaks. They don't do maintenance. Based on that, we've altered the way we build the machines.

GB: It's not so much the technology we see, but it's all the elements surrounding it, all the elements outside the machine's scope. It's becoming more software-intensive. It's why we keep saying we need to stop staring at our belly button and look at what's happening in the outside world. The technology we will figure out. Given enough time, you can always figure the solution to placing whatever comes next.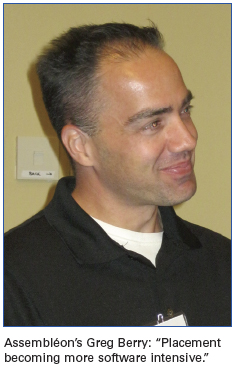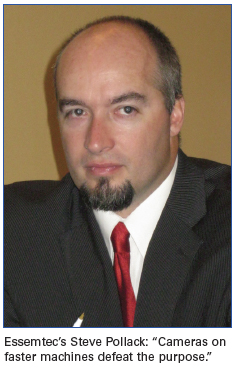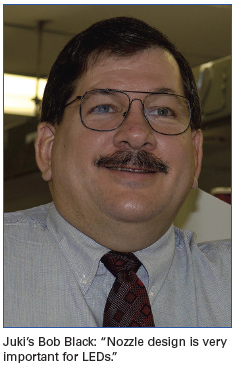 Mike Buetow is editor in chief of CIRCUITS ASSEMBLY; This e-mail address is being protected from spambots. You need JavaScript enabled to view it .
Last Updated on Friday, 07 January 2011 19:30
Columns
Eastern-US: China's New Competitor?
Parity emerges among EMS Factories from Asia, Mexico and the US.
For the first time in years we see parity in the Eastern US among EMS factories from Asia, Mexico and the US. This EMS market condition will permit American OEMs (the EMS industry refers to OEMs as customers) to have more EMS pathways to choose from. Now more than ever, such EMS assignments will require deeper investigation relating to the OEMs' evaluation of manufacturing strategies.
Read more...
For those who count on the electronics industry for big feats, it's been a remarkable couple of years.
Read more...
Features
Advances in Concentration Monitoring and Closed-Loop Control
Contaminated bath water skews refractive index results. New technology can accurately measure aqueous cleaning agent concentration.
Read more...
Circuits Disassembly: Materials Characterization and Failure Analysis
A systematic approach to nonconventional methods of encapsulant removal.
Read more...