Written by Paul Lotosky
Friday, 07 January 2011 16:26

What to do when solder isn't penetrating the aperture.
Insufficient fill occurs when the amount of solder paste deposited on a printed circuit board by the printer is much less than the stencil opening design.
Among the potential causes:

Stencil: Paste scooping effect, especially on large pads.
Recommendation: Segment the large opening into smaller apertures.

Screen printer: Paste does not roll into aperture.
Recommendations:
Reduce print speed.
Increase print pressure.
Adopt lower squeegee contact print.
Ensure paste is not expired or dry.
Ensure sufficient board support.
Reduce squeegee pressure.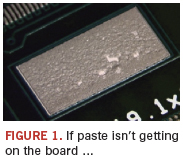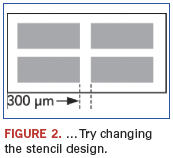 Paul Lotosky is global director – customer technical support at Cookson Electronics (cooksonelectronics.com); This e-mail address is being protected from spambots. You need JavaScript enabled to view it . His column appears monthly.
Last Updated on Friday, 07 January 2011 19:00
Columns
The Flash Programming Flow
On-board flash memory device testing and programming.
Read more...
Does Reliability Have a Place In EMS?
Experts say physics of failure is overtaking MTBF as the go-to model.
Read more...
Features
MassChallenge, a not-for-profit accelerator program, aims to "create a bigger pie" by helping innovators get to market.
Read more...
Who says a Tier IV EMS can't have the foresight, and follow-through, of the big players?
Read more...
Products
PBT Rolls Out Moduleclean Inline Batch Cleaner
Moduleclean inline batch cleaning system is for cleaning assembled PCBs, stencils, and other electronics products. Cleans surface mount technology applications such as defluxing of low-residue and...