Written by Dr. Davide Di Maio
Monday, 06 December 2010 17:43

Dip pastes may elevate solder ball levels.
This month we feature x-ray inspection of package-on-package. Figure 1 shows a four-stack PoP assembly with what looks like columns of solder balls visible on the same pitch. The image also shows chip resistor component terminations with some evidence of voiding on the surface of the printed board. There is also some evidence of solder balling to the left; however, it's difficult to say on which layer of the PoP assembly the random balls are located.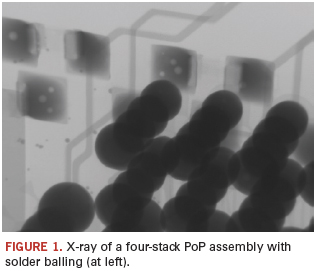 Dip paste has a lower metal content, often designed for nitrogen reflow, and has a smaller solder particle size than stencil printing grades. Hence, it is more prone to solder balling and slump during reflow. Based on this, the solder balling would be more likely on the surface of the PoP devices than the surface of the board. Changing the viewing angle and the magnification should permit the PCB surface interface to be inspected. If the solder balls are away from balls, then it may be a wash off rather than slump of solder balling from the paste. If it were paste-related, the solder particles would be close to the solder joints, like Indians circling a wagon train.

These are typical defects shown in the National Physical Laboratory's interactive assembly and soldering defects database. The database (http://defectsdatabase.npl.co.uk), available to all this publication's readers, allows engineers to search and view countless defects and solutions, or to submit defects online.

Dr. Davide Di Maio is with the National Physical Laboratory Industry and Innovation division (npl.co.uk); This e-mail address is being protected from spambots. You need JavaScript enabled to view it . His column appears monthly.
Last Updated on Monday, 06 December 2010 18:51
Columns
Could 3-D printers undo decades of frame-up circuit board assembly?
Read more...
J-STD-004B: A New Twist on an Old Standard?
Before rejecting a flux, be sure you understand the standard.
Read more...
Features
A Systems-Level Approach to Product Development
Is there a way to more tightly integrate materials and process development so as to accelerate the pace of innovation?
Read more...
Reducing Stencil Wipe Frequency
A new study of nanocoatings allows users to visualize solder paste flow under the stencil.
Read more...
Products
Hitachi Updates Sigma G5S Modular Mounter
Sigma G5S modular mounter has a multi-function head that now features lead-clinching and tamping functionalities. Uses side-mounted lighting and machine vision to identify and locate through-hole...