Written by Paul Lotosky
Wednesday, 07 July 2010 16:45

Removing solder mask between pads can mitigate this defect.
Bridging is solder connecting or, in most cases, misconnecting two or more adjacent pads that come into contact to form a conductive path.

Possible PCB causes include:
Surface mount pads will contribute to coplanarity issue, resulting in poor gasketing during printer setup.   

Recommendations:
It is highly recommended to remove solder mask between adjacent pads, especially for fine-pitch components.

Possible stencil causes include:
Dirty stencil with paste underneath, which will contaminate the bare board on the next print, attributing a potential bridge. Recommendations include verifying zero print gap setup, ensuring minimum print pressure, increasing wipe frequency, and using different cleaning chemicals.
Stencil tension. Recommendations include ensuring stencil tension is tight. Poor stencil tension will make it impossible to have a good setup for consistent print definition.
Aperture design. For fine-pitch components, it is highly recommended to have the opening slightly smaller than landing pad size to improve stencil to PCB gasketing.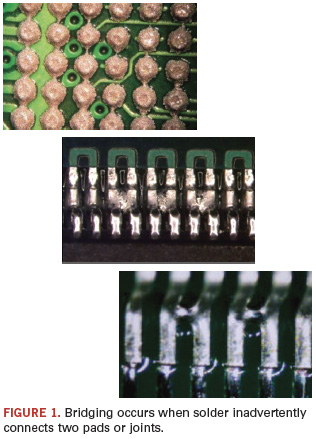 Paul Lotosky is global director – customer technical support at Cookson Electronics (cooksonelectronics.com); This e-mail address is being protected from spambots. You need JavaScript enabled to view it . His column appears monthly.
Last Updated on Wednesday, 07 July 2010 18:00
Columns
The Flash Programming Flow
On-board flash memory device testing and programming.
Read more...
Does Reliability Have a Place In EMS?
Experts say physics of failure is overtaking MTBF as the go-to model.
Read more...
Features
Technology Truck Tours: The New Alternative to Trade Shows?
As the electronics manufacturing industry worldwide has changed dramatically, marketers of OEM capital equipment have changed their strategies and methodologies. Successful marketers have learned to think outside the box – and in some cases, even outside the exhibit hall.
Read more...
MassChallenge, a not-for-profit accelerator program, aims to "create a bigger pie" by helping innovators get to market.
Read more...
Products
ASM Debuts Siplace Material Manager Software
Siplace Material Manager software communicates with popular ERP systems and enhances them with special functionalities for SMT-specific material logistics. Administers SMT materials on the package...