Written by Alan Cable
Wednesday, 07 July 2010 16:42

Residual flux is still ionically active if it remains on the assembly.
The use of flux is just as necessary for selective soldering as it is for its cousin, wave soldering; in fact, most of the same flux chemistries are used in both. However, unlike wave soldering, where the entire assembly is subjected to contact with the solder wave, in selective soldering, only specific areas are contacted by molten solder. What many don't recognize is that all the flux applied to the board may not "see" contact with the solder fountain. This can cause problems later, because that residual flux is still ionically active if it remains on the assembly.

For this reason, the selective soldering equipment user has a choice of two types of selective flux applicators: a spray fluxer and/or a dropjet fluxer. The spray fluxer applies atomized flux to a specific area, while the dropjet fluxer is more precise, and the choice depends on the circumstances surrounding the soldering application.
In either wave or selective soldering, if using a water-based flux, or even an older rosin-based flux, there is probably going to be a post-soldering cleaning operation to remove any flux residues. This cleaning step not only removes residues, but also any potential ionic contamination that might accompany these residues. You're cleaning the assembly, overall, at the same time. 

No-clean fluxes are an entirely different matter. A no-clean is used expressly to eliminate the cleaning step. No-clean fluxes originally were designed to be used with wave soldering, where the entire board is passed through the wave, and the solder brings all the flux up to a mitigating temperature and removes or scrubs off residues, (hopefully) rendering a post-cleaning operation unnecessary. Any residue on the board is deemed to be non-ionic contaminating.

But whenever a spray fluxer is used on a selective soldering machine, I make it clear that a post-cleaning operation is needed. Why? In selective soldering, the solder is only contacting a limited area, or a number of select areas, and not the entire board. Consequently, if flux is sprayed outside of the solder contact area, it won't be heated to an appropriate temperature needed to render it inert, or be removed, and thus, it will remain ionically active if there is no post-cleaning operation (which there probably would not be if a no-clean flux is used). There will be overspray that the solder will not reach, and that leftover flux on the board can cause problems.

Thus, when a no-clean flux is used, we suggest dropjet fluxing instead of spray fluxing. The dropjet fluxer puts down a tiny amount of flux in a very closely-defined location (think ink-jet). It does this through a displacement, not aerosol, technique, something on the order of a 1 mm diameter flux droplet on the pad and the pin, where it's needed. Dropjet fluxers are programmable, permitting a select amount of flux, one droplet or a multitude as required, or even a continuous line of flux. The goal is to have the solder engulf that entire deposited amount of no-clean flux and wash it off with the scrubbing action of the flowing molten solder, just as a solder wave would in a wave soldering machine. This makes post-cleaning unnecessary and prevents ionic contamination problems.

As mentioned, the flux chemistries used in selective soldering are basically the same that are used in wave soldering; there are no really separate chemistries, at least not yet. There are, perhaps, 30 to 40 different fluxes we choose for selective soldering in our inventory. We have proven a number empirically to work best, and what we look for in the "best" fluxes are the characteristics of tenacity; i.e., best solids content and ability to survive the higher operating temperatures of the selective soldering wave. A typical wave soldering machine operates at 245° to 260°C, whereas in selective soldering, the solder temperature is closer to 300°C for a variety of reasons that include the smaller area and heat-dissipative characteristics of the board, the type of component soldered, the need for through-hole filling, and others. We, therefore, want fluxes that will be wet, active, do their job, and wash off in the molten wave. Through experimentation, the user can develop a correlation chart of fluxes to alloys, based on the user's products and manufacturing scheme. A great tool – indispensable, really – is a wetting balance tester.

Wetting balance analysis is a quantitative test; i.e., it measures the wetting forces imposed by the molten solder on the test surface as it is dipped into and held in a solder bath as a function of time and plotted, and does this in accordance with established industry standards such as military and IPC/Jedec. A wetting balance tester is a superb tool for evaluating the suitability of specific fluxes to alloys in the user's own individual manufacturing operation.

In the end, the selective soldering user should use the most effective flux for each specific alloy, in as minimal quantity as possible for each soldering site.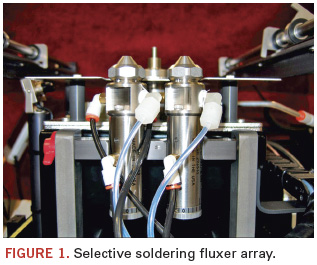 Alan Cable is president of A.C.E. Production Technologies (ace-protech.com); This e-mail address is being protected from spambots. You need JavaScript enabled to view it .
Last Updated on Wednesday, 07 July 2010 17:59
Columns
Eastern-US: China's New Competitor?
Parity emerges among EMS Factories from Asia, Mexico and the US.
For the first time in years we see parity in the Eastern US among EMS factories from Asia, Mexico and the US. This EMS market condition will permit American OEMs (the EMS industry refers to OEMs as customers) to have more EMS pathways to choose from. Now more than ever, such EMS assignments will require deeper investigation relating to the OEMs' evaluation of manufacturing strategies.
Read more...
For those who count on the electronics industry for big feats, it's been a remarkable couple of years.
Read more...
Features
Advances in Concentration Monitoring and Closed-Loop Control
Contaminated bath water skews refractive index results. New technology can accurately measure aqueous cleaning agent concentration.
Read more...
Circuits Disassembly: Materials Characterization and Failure Analysis
A systematic approach to nonconventional methods of encapsulant removal.
Read more...