Written by Randall Sherman
Wednesday, 07 July 2010 16:32

ODMs remain better positioned to grow than their EMS cousins.
The worldwide EMS industry growth rate declined approximately 8.3% in 2009, yet if first-quarter results are indicative, growth has already returned. Contract manufacturers experienced the strongest decline – almost 15% – while ODMs actually saw revenue grow 5.6%. Similarly, CMs lost money in 2009 (led mainly by Flextronics, down over $6 billion), while ODMs collectively made more than $2 billion. It seems the strategy of focusing on high-volume, low-mix products such as PCs, motherboards and notebooks permitted ODMs to survive the downturn, whereas CMs saw dramatic declines in orders in the capital equipment (semiconductor), automotive and mobile phone markets. In the coming years, ODMs should fare better than CMs, albeit slightly, as the former has the ability to maintain stronger profit margins as a result of branded products (Table 1).



The EMS market is driven by the electronics assembly market, of which it is a subsegment (Table 2). The overall market for electronics components (semiconductors, passives, connectors, etc.) is projected to recover throughout the forecast period, as a result of a recovery in demand for electronics manufactured products.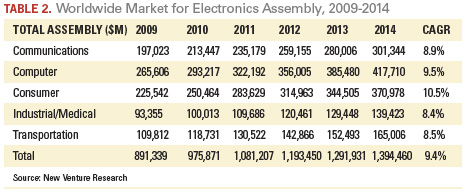 Consumer, communications and computer products will continue to be the segments driving the largest growth. In 2014, the total industry is expected to exceed $1.4 trillion in annual assembly value (COGS), on a mixture of replacement buys and new products. Outsourcing has become a critical element in industry expansion and cost reduction – a leading attribute in stimulating continuous consumer demand. The trend to move price-sensitive manufacturing to low-cost regions will impact the manufacturing footprint for all suppliers.

Yet, the shift in production to low-cost regions is starting to wane (Table 3). Today, we are seeing OEMs requiring EMS partners to manufacture products near the point of consumption. For certain high-volume products like mobile phones and PCs, OEMs need to leverage the lowest cost in manufacturing. For other products, however, the labor cost differentials are becoming less significant when weighed against the total cost of production (including transportation and logistical challenges). Offshore product migration will take place, according to our forecasts, but at a more moderate pace.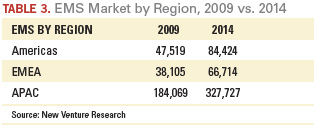 CMs and ODMs will experience the strongest growth from production in the consumer, communications, and medical equipment markets. Specifically, CMs will find very strong growth in personal navigation, digital television, and cellular infrastructure, while ODMs are projected to experience very strong growth in enterprise storage systems, personal navigation systems, and set-top boxes. In general, CMs will tend to excel in the technology-intensive product areas and complex board assemblies. ODMs excel in manufacturing commodity/high-volume products such as motherboards, monitors, handhelds, and consumer electronics. Table 4 compares the worldwide EMS market by market segment for 2009 and 2014.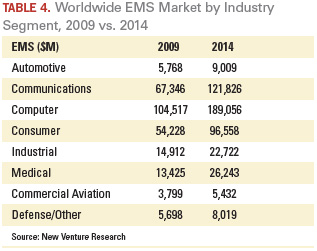 Foxconn continued its extraordinary dominance, outdistancing its closest contender by almost 2.5 times. Flextronics remained steadfastly in the No. 2 position, as did Jabil Circuit, Celestica and Sanmina-SCI in subsequent positions (Table 5).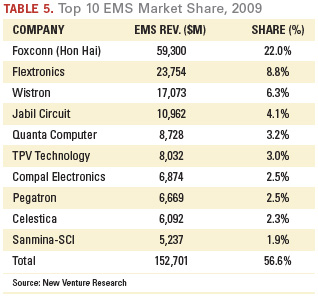 Although a simple ranking of EMS companies by revenue is informative, there are many other meaningful financial measures of EMS performance. These are covered in detail in our annual report, The Worldwide Electronic Manufacturing Services Market, 2010 Edition. To summarize these measures, the report uses a total performance rating based on a weighting of these other measures. The EMS companies having the highest total scores were deemed best-performing; conversely, those companies having the lowest total scores were viewed as worst-performing (Table 6).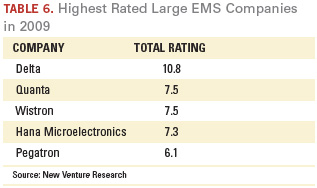 In 2009, Delta emerged as the winning EMS company, with the highest total score by a wide margin for the second year in a row, according to NVR's financial performance metrics. Quanta moved into second place ahead of Wistron, and Hana Microelectronics ranked fourth. Pegatron (Asustek), Alco and HTC also ranked strongly. Note that all these high-performing EMS companies were Asian.
Randall Sherman is president and CEO of New Venture Research Corp. (newventureresearch.com); This e-mail address is being protected from spambots. You need JavaScript enabled to view it . His column runs bimonthly.
Last Updated on Wednesday, 07 July 2010 18:18
Columns
Eastern-US: China's New Competitor?
Parity emerges among EMS Factories from Asia, Mexico and the US.
For the first time in years we see parity in the Eastern US among EMS factories from Asia, Mexico and the US. This EMS market condition will permit American OEMs (the EMS industry refers to OEMs as customers) to have more EMS pathways to choose from. Now more than ever, such EMS assignments will require deeper investigation relating to the OEMs' evaluation of manufacturing strategies.
Read more...
For those who count on the electronics industry for big feats, it's been a remarkable couple of years.
Read more...
Features
Advances in Concentration Monitoring and Closed-Loop Control
Contaminated bath water skews refractive index results. New technology can accurately measure aqueous cleaning agent concentration.
Read more...
Circuits Disassembly: Materials Characterization and Failure Analysis
A systematic approach to nonconventional methods of encapsulant removal.
Read more...