Written by Chris Hunt
Friday, 29 March 2013 16:17
Could contamination be the culprit?
Figure 1 shows a solder ball on a TMV cavity. This termination was seen after the top component was mechanically removed to examine for open connections. There was evidence of some form of residues on the surface ball. This indicated that either dip flux or flux from the dip paste was present on the top package balls prior to placement and reflow. In this case the flux medium was in contact with both balls but failed to permit the two surfaces to reflow together to form a joint.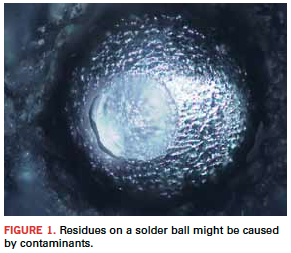 This may be a problem caused by some form of contamination on the surface of the balls that the flux could not overcome, or for some reason the package could not sink down evenly, permitting the metal-to-metal contact prior to reflow. In a case like this where both the ball interfaces were slightly flattened with no residues, it may be the flux is not removing the oxide surfaces.

These are typical defects shown in the National Physical Laboratory's interactive assembly and soldering defects database. The database (http://defectsdatabase.npl.co.uk), available to all this publication's readers, allows engineers to search and view countless defects and solutions, or to submit defects online. To complement the defect of the month, NPL features the "Defect Video of the Month," presented online by Bob Willis. This describes over 20 different failure modes, many with video examples of the defect occurring in real time.

Chris Hunt is with the National Physical Laboratory Industry and Innovation division (npl.co.uk); This e-mail address is being protected from spambots. You need JavaScript enabled to view it . His column appears monthly.
Last Updated on Monday, 01 April 2013 10:53
Columns
The Flash Programming Flow
On-board flash memory device testing and programming.
Read more...
Does Reliability Have a Place In EMS?
Experts say physics of failure is overtaking MTBF as the go-to model.
Read more...
Features
MassChallenge, a not-for-profit accelerator program, aims to "create a bigger pie" by helping innovators get to market.
Read more...
Who says a Tier IV EMS can't have the foresight, and follow-through, of the big players?
Read more...