Written by Chris Denney
Monday, 04 March 2013 12:22
When solder doesn't want to flow, try increasing the dwell time.
Some of the components our customers ask us to solder can absorb a lot of heat. And I mean a lot of heat. One particular part that we solder has 16 solder joints, is made completely of metal (not sure what, but it seems like a tinned copper), and nearly every pin sits on an enormous ground plane. Not to mention the holes are by no means oversized to make this any easier.

Needless to say, it gave us some trouble.

We tried using a local spot preheat. This helped a little, but at the end of the day, that solder still did not want to flow up through that ground plane. So, we thought, why not just sit there with the nozzle. Turns out, that was the trick.

It's fairly simple really. Using our selective soldering machine software, we added an extra point at the four pins that absorbed the most heat. Then we added a couple seconds of dwell at each point (Figure 1).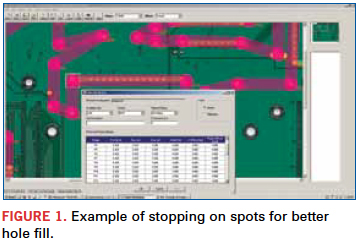 This worked like a charm. You can actually watch from the top of the machine as the solder climbs up the joint. It happens slowly, but once it makes it all the way through, you can see a beautiful solder joint remains.

Obviously, dwelling on specific points will add to the cycle time. But in an effort to make the best product possible, it's a small price to pay.
Chris Denney is chief technology officer at Worthington Assembly (worthington-assembly.com); This e-mail address is being protected from spambots. You need JavaScript enabled to view it .
Last Updated on Monday, 01 April 2013 16:24
Columns
European RoHS Enforcement Explained
A series of workshops next month on compliance with RoHS and other directives will help US companies looking to break into the European market.

Read more...
Believing Foxconn Means Suspending Belief
The Foxconn makeover is in full swing, with the latest this piece from the New York Times that supposes that the world's largest ODM is worried that Apple -- yes, Apple -- might be bringing it down:
Read more...
Features
Managing Your ESD Program
SMT Reflow Oven-to-Oven Repeatability
How to adjust an oven so a single recipe will work across multiple ovens for an individual product.
Read more...
Products
Kolb Releases PS300 2HY Stencil Cleaner
PS300 2HY hybrid batch stencil cleaner is suitable for stencils, PCBs, misprints and solder frames. Is an automatic single-chamber system; features 3-4 step PowerSpray cleaning. Is part of compact...