Written by Chris Hunt
Monday, 04 March 2013 12:19
Solder shorts on bottomside package-on-packages are not uncommon due to finer-pitch terminations and devices warping during reflow due to the package design or from popcorning (Figure 1). Warping or popping can compress the solder from the paste and ball when in a liquid state, resulting in the shorts. Typically this device would use a 0.004" stencil and a Type 4 paste with a size-for-size stencil aperture. Due to package warpage, it's not uncommon for engineers to have different size stencil apertures between the outer and inner rows if the degree of warp is known. This can be calculated through pre-assembly testing or by a seasoned guess. (Also, the balls in the top part of Figure 1 do not seem to have collapsed into the cavity as far as normal, which suggests that the temperature profile may be less than be ideal.)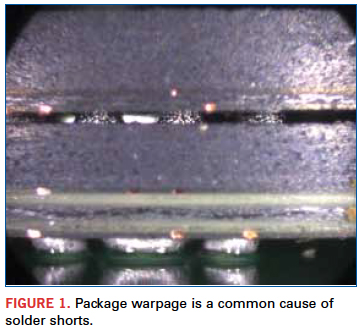 These are typical defects shown in the National Physical Laboratory's interactive assembly and soldering defects database. The database (http://defectsdatabase.npl.co.uk), available to all this publication's readers, allows engineers to search and view countless defects and solutions, or to submit defects online. To complement the defect of the month, NPL features the "Defect Video of the Month," presented online by Bob Willis. This describes over 20 different failure modes, many with video examples of the defect occurring in real time.
Chris Hunt is with the National Physical Laboratory Industry and Innovation division (npl.co.uk); This e-mail address is being protected from spambots. You need JavaScript enabled to view it . His column appears monthly.
Last Updated on Monday, 04 March 2013 16:39
Columns
The Flash Programming Flow
On-board flash memory device testing and programming.
Read more...
Does Reliability Have a Place In EMS?
Experts say physics of failure is overtaking MTBF as the go-to model.
Read more...
Features
MassChallenge, a not-for-profit accelerator program, aims to "create a bigger pie" by helping innovators get to market.
Read more...
Who says a Tier IV EMS can't have the foresight, and follow-through, of the big players?
Read more...
Products
Keyence Introduces LR-T Series Laser Sensor
LR-T Series multi-purpose laser sensor features a high level of detection ability, with stable detection over long or short distances, regardless of target surface type, color, or finish. Is...