Written by Mike Buetow
Monday, 03 December 2012 14:34
Page 2 of 2



Expansion is never far from management's mind. Creation has explored sites on the East Coast of the US for years, to the point where it's actually made offers, according to Circuits Assembly sources, but never consummating a deal. "We're still looking," says Hyatt. "And we'll keep doing that until we find the right company with the right culture in the right location."

While the large EMS model is to have a couple smaller plants in key geographical locations and big box sites in lower labor cost regions, Creation views the landscape differently. Even the offshore sites are within the standard company footprint. Earlier this year, it moved into a larger facility in Changzhou City, China, which at 75,000 sq. ft. pales in size compared to the megaplants owned by Flextronics, Foxconn and other top tier EMS. When it acquired Aisling Industries in October, the 85,000 sq. ft. factory became Creation's first south of the border. Creation's primary markets range from aerospace and defense to medical and industrial, in short, the higher-mix, lower-volume variety, but it would be a stretch to say the company can't compete in the volume arena. Certain end-products we saw during a plant visit could easily be classified as high-volume consumer items.

Creation has been judiciously adding pre- and after-market services. In 2011, it gobbled up the design and development group of Quest Product Development, bringing to 30 the number of designers it has between sites in Denver and outside Milwaukee. At the time, Tymos lauded the unit's experience in mechanical design and with medical products.

Unlike most EMS businesses, the designers have their own sites. But while the centers might be discrete, manufacturing and design communicate on a daily basis, Hyatt says, "The design center needs to be a full-scale design center. We want to design full products: PCB layout, mechanical, software, etc. that we ultimately manufacture in a Creation manufacturing Business Unit."

AMS is another interesting piece, Hyatt says. "It's a lot like prototyping. A lot of customers need products serviced where they were built because of the fixtures and tooling. A test rack can be $500,000. Customers would rather have the EMS company that has (the fixtures) do it."

Cell Service

The Creation factory layout is atypical of most. While it follows a cell model that others (Plexus for one) have long since adopted, those cells are based on the customer, not the equipment or the engineering team. So while the Oak Creek, WI, factory, for example, has three common SMT lines (although the equipment set was all over the map: DEK screen printers; Juki, Universal and Fuji placement machines; Heller 1800 EXL and Vitronics-Soltec XPM2 reflow ovens, and an Electrovert Aquastorm 200 for cleaning) located in the center of the 90,000 sq. ft. building, customers have their own cells around the perimeter of the lines. Each cell is labeled with the customer name (dangling by a placard), its own 5S scorecard, customer surveys, and a client history. Most inventory is located at the point of use. Stencils are sited on the factory floor adjacent to the lines.

Each line has an LCD display showing work-in-progress and loading information. The platform is based on a color-coded system, compiled in Access, that all manufacturing staff have access to. A Kanban system tracks inventory on the floor.

Commenting on the unusual layout, Hyatt said, "It's important for our teams, and we like the visual identity. Anyone can tell at a glance what's running and what's not."

Every Creation factory has conformal coating capability, and in Oak Creek we also saw x-ray, functional test, and an Agilent 3070 ICT. To optimize space, a second story hangs over part of the floor, used for parts storage. A clean room, engineering lab and a dedicated NPI section round out the picture.

Home Field Advantage

Even while expanding the operation in China, Creation has been looking at possible acquisitions in a low-cost region (read: Mexico) in the Western Hemisphere for a few years, writes Tymos, who regularly blogs and tweets. The Aisling acquisition stretches the corporate footprint but takes advantage of the proximity and labor rate advantage of Mexico. Creation is relocating the manufacturing operation to a newer 125,000 sq. ft. facility.

While I haven't seen any direct indication that OEMs are broadly dissatisfied with China, after a decade of waning US manufacturing, the pendulum is swinging back, and Creation Technologies is in good position to take advantage. "That we're largely a North American company seems to resonate with customers, especially in this day and age of 'offshoring and outsourcing,' " Hyatt allows.

Creation Technologies is a North American manufacturing success story. But it's more than that. It is also the CIRCUITS ASSEMBLY EMS Company of the Year.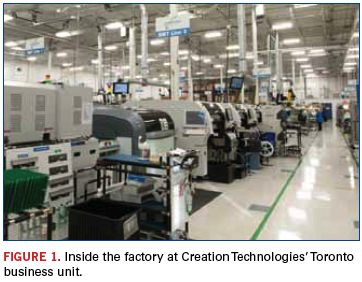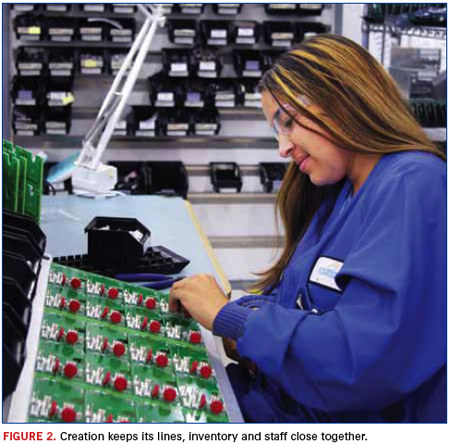 Mike Buetow is editor in chief of CIRCUITS ASSEMBLY (circuitsassembly.com); This e-mail address is being protected from spambots. You need JavaScript enabled to view it .
Last Updated on Wednesday, 05 December 2012 21:05
Columns
Eastern-US: China's New Competitor?
Parity emerges among EMS Factories from Asia, Mexico and the US.
For the first time in years we see parity in the Eastern US among EMS factories from Asia, Mexico and the US. This EMS market condition will permit American OEMs (the EMS industry refers to OEMs as customers) to have more EMS pathways to choose from. Now more than ever, such EMS assignments will require deeper investigation relating to the OEMs' evaluation of manufacturing strategies.
Read more...
For those who count on the electronics industry for big feats, it's been a remarkable couple of years.
Read more...
Features
Advances in Concentration Monitoring and Closed-Loop Control
Contaminated bath water skews refractive index results. New technology can accurately measure aqueous cleaning agent concentration.
Read more...
Circuits Disassembly: Materials Characterization and Failure Analysis
A systematic approach to nonconventional methods of encapsulant removal.
Read more...