Written by Scott Mazur
Thursday, 28 July 2011 15:07
Page 2 of 2

Reuse of packaging and handling materials. In many cases, the best recycling approach is to reuse the item. This can be best accomplished with packaging and handling materials. Cases may surface in which the packaging material is not recyclable; this may result in a redesign to recyclable material or reusable packaging. Upfront design will be needed for this determination, ideally before product introduction.

Figure 1 can be used to calculate energy savings for the recycling activities at the EMS facility. The metric is calculated on the assumption that recycling saves energy verses the total manufacturing process of creating new material. In the example below, the kilowatt per hour (KWH) savings was based on one ton of paper, cardboard, glass and plastic bottles recycled.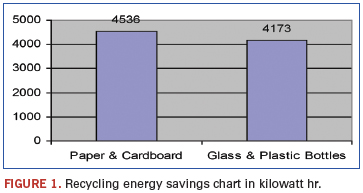 The combined total energy saved is equal to approximately the average household energy use for one full year. Calculators are available through state and federal (EPA) environmental departments and websites.

Other opportunities for projects include energy reduction through lighting and motor improvements and chemical, waste and material reductions. In most cases, energy objectives can result in a cost reduction, usually by modifying lighting times and upgrading lighting fixtures and motors to energy-efficient equivalents. It is important to understand the simple payback of the project; on occasion, rebates are available that can be factored into the calculation.

Potential cost and environmental payback. In addition to the benefits of completing environmental objectives and pollution prevention, cost reductions and paybacks can be potentially received. Electronics recycling, given the current market of metal pricing, provides a cost payback for scrap metal, subassemblies and wave solder dross. Figure 2 details an approximate cost payback per 1000 lb. of wave solder dross, aluminum cans and metal.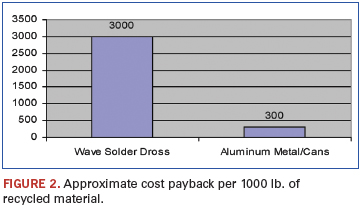 The biggest payback would be from the wave solder dross, which will be refined by the recycling supplier and associated metals (tin, copper, silver, etc.) extracted. Depending on market conditions, cardboard and paper recycling may also provide a payback. Some recycling activities will not result in a cost payback; the result will be the environmental benefit of the material not being discarded in a landfill.
Conclusion

The actions above can all benefit the environment. Moreover, EPA and state recognition and awards are available to successful companies. Employee involvement is important to any recycling program, given their knowledge of the process and products. Employees also have impacts on energy reduction, waste disposal and handling. A material or item that has been historically thrown away may be recycled or reused; employee involvement will bring attention to these new opportunities.

By setting up an environmental management system, a facility can monitor and comply with regulatory requirements and set up a program for environmental objectives and projects. In some cases, the results of the environmental project can provide a cost reduction or cost payback. By training and involving employees, many recycling ideas will surface to the benefit of the environment and manufacturing facility.
Scott Mazur is a manufacturing staff engineer and environmental management representative for Benchmark Electronics (bench.com); This e-mail address is being protected from spambots. You need JavaScript enabled to view it .

References

1. Scott Mazur, "Environmental Recycling for the EMS" – SMT, October 2010.
2. Scott Mazur, "Developing an Environmental Management System for the Electronics Manufacturer," IMAPS New England Symposium, May 2011.
Last Updated on Monday, 15 August 2011 20:12
Columns
There's been a flurry of EMS acquisition activity of late, with Natel's acquisition of EPIC Technologies and Benchmark's pickup of Suntron and CTS among the larger deals.
Read more...
What Does New CEO for Microsoft Mean for Hardware?
In the end, Microsoft couldn't pull the trigger. In Seattle, outside just wasn't "in."
The world's largest software developer today named Satya Nadella, head of the the company's Server and Tools unit, as its new chief executive. The 46-year-old Nadella becomes just the third person to lead Microsoft, one of the most successful and wealthiest companies ever.
Read more...
Features
A Systems-Level Approach to Product Development
Is there a way to more tightly integrate materials and process development so as to accelerate the pace of innovation?
Read more...
Reducing Stencil Wipe Frequency
A new study of nanocoatings allows users to visualize solder paste flow under the stencil.
Read more...
Products
Getech Releases GLRS Laser Singulater
GLRS laser singulation system is configurable with a near IR laser (1032nm) for use with metal-core substrates or a green laser (532 nm) for use with ultra-thin and flexible substrates. Inert gas...