Written by Keith Felton and Hemant Shah
Thursday, 28 July 2011 15:36
Page 2 of 2


The consortium was created in June and includes the following founding members from across the PCB design/supply chain:
OEMs: Harris, Ericsson, Fujitsu, nVidia.
EMS/ODM: Sanmina-SCI.
Software tools: ADIVA, Cadence, Downstream Technologies, Zuken.
Media: UP Media Group.
The consortium is open to any PCB design/supply chain company that is prepared to adopt the consortia goals/objectives and commit to a roadmap for IPC2581 adoption: a) publicly state that the company is a supporter of IPC2581, and b) actively support IPC2581 by either producing or consuming IPC2581 in the next 12 to 16 months.

Further, systems companies are asked to require suppliers to produce/consume IPC-2581 data within the next 12 months. EDA design tool companies are asked to output IPC-2581 from board designs. DfM verification companies must export IPC-2581, and fabricators, assemblers and test companies must import and consume IPC-2581.

Why is Cadence Design Systems involved, and to what degree? Cadence believes it is in the industry's best interest that an open, public, neutrally maintained standard be adopted by all segments of the PCB design, fabrication, assembly and test supply chain. Cadence commits to develop and maintain IPC-2581 import and export from its Allegro PCB design software and stay current with the latest approved and published IPC-2581 specification. Cadence additionally commits to collaborating with all consortium members to ensure that Allegro-derived IPC-2581 data can be accurately and smoothly consumed by their technology(ies), methodology(ies) and process(es).

Whither ODB++? Before being acquired by Mentor Graphics, Valor Systems was in some ways a major contributor to IPC-2581. Indeed, Valor donated its ODB++X format, which was merged with IPC's GenCAM to form the foundation of IPC-2581. With ODB++/ODB++X no longer in the open "pseudo standard" domain, the consortium feels compelled to ensure that an open, unbiased "living" standard is maintained, adopted and promoted across the global supply-chain.

References

1. Mike Buetow, "A Short History of Electronic Data Formats," pcdandf.com, June 28, 2011.
Keith Felton is product management group director for Allegro and OrCAD products, and Hemant Shah is product management director for Allegro PCB products at Cadence Design Systems (cadence.com); This e-mail address is being protected from spambots. You need JavaScript enabled to view it .

Ed.: UP Media Group is actively supporting the effort to move users to an intelligent data transfer standard. This is our corporate position: For 20 years, UP Media Group has supported the development of an intelligent, robust format for electronics data transfer. We fully support the consortium's effort to ensure a viable, supported and independent data transfer format that is driven by user needs.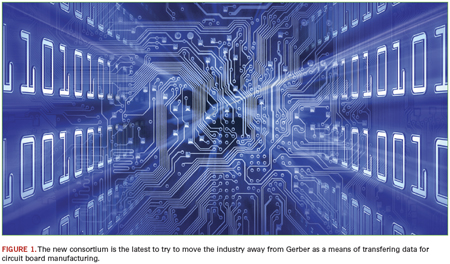 Last Updated on Wednesday, 10 August 2011 14:26
Columns
Could 3-D printers undo decades of frame-up circuit board assembly?
Read more...
J-STD-004B: A New Twist on an Old Standard?
Before rejecting a flux, be sure you understand the standard.
Read more...
Features
A Systems-Level Approach to Product Development
Is there a way to more tightly integrate materials and process development so as to accelerate the pace of innovation?
Read more...
Reducing Stencil Wipe Frequency
A new study of nanocoatings allows users to visualize solder paste flow under the stencil.
Read more...