Past Book Reviews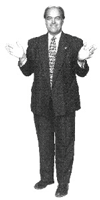 This page is dedicated to keeping engineers up-to-date with the latest industry literature. I do not sell the books, I just enjoy reading and reviewing material from around the world written by engineering peers.
This is a personal review of the latest electronics/process books to be offered for sale. As you will see, there is a mix of titles, but there is something for every taste and budget.
Columns
Eastern-US: China's New Competitor?
Parity emerges among EMS Factories from Asia, Mexico and the US.
For the first time in years we see parity in the Eastern US among EMS factories from Asia, Mexico and the US. This EMS market condition will permit American OEMs (the EMS industry refers to OEMs as customers) to have more EMS pathways to choose from. Now more than ever, such EMS assignments will require deeper investigation relating to the OEMs' evaluation of manufacturing strategies.
Read more...
For those who count on the electronics industry for big feats, it's been a remarkable couple of years.
Read more...
Features
Advances in Concentration Monitoring and Closed-Loop Control
Contaminated bath water skews refractive index results. New technology can accurately measure aqueous cleaning agent concentration.
Read more...
Circuits Disassembly: Materials Characterization and Failure Analysis
A systematic approach to nonconventional methods of encapsulant removal.
Read more...