If you want to compensate for bow, you've got to get low.
From time to time, we come across assemblies that are quite large (16" x 16") and quite flexible. They may be standard 0.062" boards, but they're loaded with a lot of large, heavy parts. When you put a lot of heavy parts over a large area, it's a perfect recipe for board warpage.

We recently had a job with just these conditions. We have supports on the fixture to help with this phenomenon. They're aluminum bars that are self-supporting on the fixture, with a spring-loaded hook that tries to pull up a heavy board so that it remains flat and does not bow down. But even with these aluminum support bars, the board still wanted to bow down.

The only solution was to adjust the height of the nozzle by changing the "Z-height" in our program. This can be tricky, though, because if you lower the Z-height across the entire assembly, areas that are well-supported by edges of the fixture or aluminum bars may have very poor hole fill, or even not get soldered at all. You will need to identify areas on the assembly where the board is going to warp so far down that there's risk the component leads will contact the nozzle. The board shown in Figure 1 starts out with no offset on the z-height because the nozzle starts at an area of the board that is well supported by the fixture. But as the path gets closer to the center of the board, where the worst warpage is experienced, we decrease the z-height by as much as 1.25mm. This may not sound like much, but we often find even a quarter millimeter can make a huge difference in consistent hole fill.
[Ed.: To enlarge the figure, right-click on it, then click View Image, then left-click on the figure.]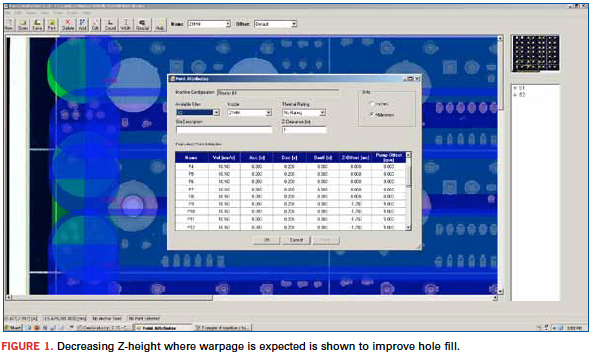 It's been suggested that we reduce the Z-height over the whole assembly and just increase the pump speed. The rationale: By just increasing the pump speed, the solder will flow high enough to fill the plated holes properly. This may be true in some circumstances, but it leads to compromises. In most cases, when the pump speed is too high, the results are more bridging and increased dross buildup, not to mention that the contact surface area may increase considerably, potentially causing contact with adjacent surface mount components.
Yes, ladies and gentlemen, selective soldering is a process that will challenge your creativity.
Chris Denney is chief technology officer at Worthington Assembly (worthingtonassembly.com); This e-mail address is being protected from spambots. You need JavaScript enabled to view it .
Columns
The Flash Programming Flow
On-board flash memory device testing and programming.
Read more...
Does Reliability Have a Place In EMS?
Experts say physics of failure is overtaking MTBF as the go-to model.
Read more...
Features
Technology Truck Tours: The New Alternative to Trade Shows?
As the electronics manufacturing industry worldwide has changed dramatically, marketers of OEM capital equipment have changed their strategies and methodologies. Successful marketers have learned to think outside the box – and in some cases, even outside the exhibit hall.
Read more...
MassChallenge, a not-for-profit accelerator program, aims to "create a bigger pie" by helping innovators get to market.
Read more...
Products
TRI Rolls Out TR7500 SIII 3D AOI
TR7500 SIII 3D AOI has five color cameras and 3D laser for 3D height inspection. Combines 3D profile measurement with multi-angle 2D inspection. Is for post-reflow assembly inspection. Inspects 01005...