Details

Written by

Clive Ashmore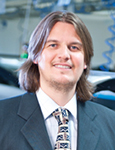 Predictions on material transfer get a wrinkle.

When you're pushing the limits of area ratio rules and trying to realize an acceptable result out of a shrinking window, even the slightest dimensional alterations can make a big difference. That was the topic of my last column, as we looked into the impact of challenging area ratios of 0.4 (the accepted standard is 0.66), as well as the aspect ratio influence as the geometric shape of the aperture moved from a square to a rectangle. The work revealed that at an aspect ratio range of 1.6 to 1.8, the Cp values were noticeably higher than for those apertures with a 1.2 or 2.0 aspect ratio (each end of the square to rectangle spectrum). Intrigued by these results, our team pushed on with the miniaturized aperture (0.4 area ratio) shape analysis, this time to understand the effect of moving from a square to a circle.

I should note a few years back, our company also evaluated the printing performance of pure squares versus pure circles when using activated squeegee technology. Ultimately, the square apertures produced better transfer efficiency rates, which improved dramatically with the use of an activated squeegee versus a standard squeegee. However, what this previous study didn't assess, and what our team set out to investigate this time, were gradual changes in aperture shape when moving from a square to a circle. For example, taking the Y dimension and slowly changing the radius by slight percentage increases to round the square edges and eventually move to full circle (FIGURE 1).
Read more ...