Details

Written by

Clive Ashmore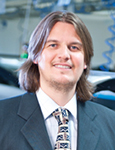 Do aperture area ratio and aspect ratio play an equal role?
Miniaturization has been a central theme of this column for a long time. The enduring relevance of the topic speaks to the ever-moving goal posts when it comes to component sizes and printing dimensions. Today the industry is facing the reality of passive metric 0201s, which has prompted another look at the influence of stencil architecture on the printing process. The impact of introducing sub-150µm apertures means heterogeneous assemblies will include next-generation surface-mount devices that push area ratios below 0.5. To understand the bearing this will have on the print process, our team evaluated not only at area ratio – which has been the historic measure of printability – but also at the area ratio's associated aspect ratios. The results were intriguing, to say the least.

By definition, the aspect ratio relates to the measurement of the shape of the aperture, and the area ratio corresponds to the aperture opening and side wall area. The formulas for both follow:
Read more ...